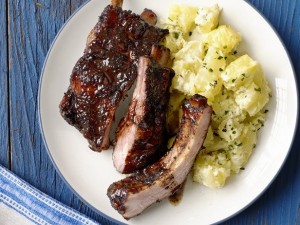 Sweet-Tea Ribs with Lemony Potato Salad
Ingredients
6 bags black tea (any kind)
1/4 cup plus 2 tablespoons packed light brown sugar
Kosher salt and freshly ground pepper
1 orange
2 racks baby back ribs (about 2 pounds)
2 pounds russet potatoes, peeled and cut into 3/4-inch chunks
1/2 cup mayonnaise
1 tablespoon chopped fresh parsley
1 lemon
Directions
Empty 3 tea bags into a bowl and combine the loose tea with 1/4 cup brown sugar, 2 teaspoons salt and 1/4 teaspoon pepper. Grate in the orange zest. Pat the ribs dry and trim the membrane from the underside. Rub the tea mixture over the ribs; place in a roasting pan, meat-side up, and bring to room temperature, about 20 minutes.
Preheat the oven to 275 degrees F. Steep the remaining 3 tea bags in 2 cups boiling water, about 5 minutes. Discard the bags and stir in the remaining 2 tablespoons brown sugar and the juice of half the orange. Pour the mixture around the ribs in the pan. Cover with foil and roast until tender, about 1 hour 30 minutes.
Meanwhile, put the potatoes in a pot of salted water; bring to a simmer and cook until tender, about 5 minutes. Drain and cool slightly. Mix the mayonnaise and parsley in a large bowl. Grate in the zest of half the lemon; add the juice of the lemon half. Fold in the potatoes and add 11/2 teaspoons salt, and pepper to taste; refrigerate until ready to serve.
Remove the ribs from the oven and increase the temperature to 450. Pour the cooking liquid into a saucepan and bring to a simmer over medium-high heat. Baste the ribs with some of the liquid, then return to the oven and cook, uncovered, basting a few times, until the ribs are dark and glazed, 20 to 30 minutes.
When the remaining liquid in the saucepan is syrupy, add lemon juice to taste. Brush the ribs with the glaze. Cut the racks into pieces and serve with the potato salad.
Courtesy Food Network Magazine